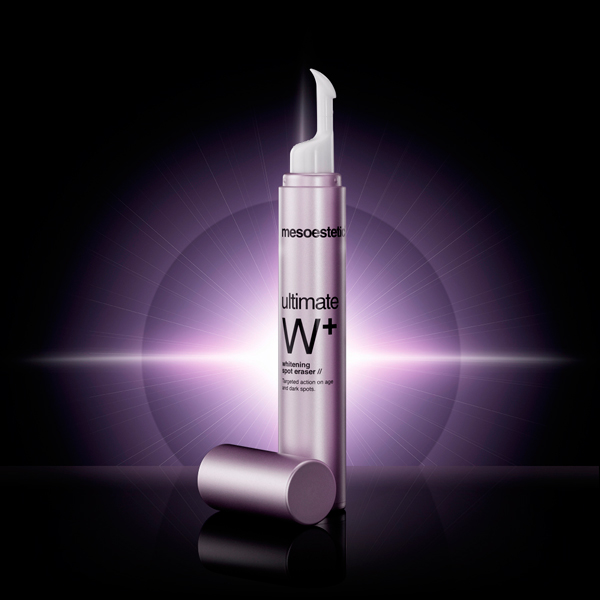 Melanogenesis is the natural biochemical process responsible for production of the skin pigments that give the skin color and protect it from UV radiation. This process can be altered by different factors that trigger localized overproduction of melanin, causing unsightly blotches and uneven skin tone. The main cause of melanin overproduction is exposure to the sun. However, genetic factors, hormonal factors, skin aging, photosensitizing agents, etc. also play a role.
Often, the skin pigmentations that we have are so dark that ordinary lightening creams and lotions don't improve them significantly. Mesoestetic™ Ultimate W+ Whitening Spot Eraser has ultra-concentrated whitening ingredients to improve even the most recalcitrant skin pigmentations.
Mesoestetic™ Ultimate W+ Whitening Spot Eraser has [Meso]white complex™, an exclusive combination of active ingredients with proven efficacy that inhibit melanin synthesis by disrupting various steps in its formation and transfer. It also has Garden cress, a powerful phytonutrient that inhibits tyrosinase and α-MSH, both involved in melanin synthesis processes. Attenuates the appearance of spots on skin and provides whitening benefits. Glycolic acid and Retinol also helps in its lightening property, with added anti-oxidant action to protect your skin and provide anti-aging benefits.
DIRECTIONS FOR USE: Use light pressure to release the product, and apply once or twice daily, directly to the treatment zone, using gentle circular massaging movements until it is completely absorbed.
Want to know more about Mesoestetic™ Ultimate W+ Whitening Spot Eraser? Ask your Board-Certified Dermatologist about it.