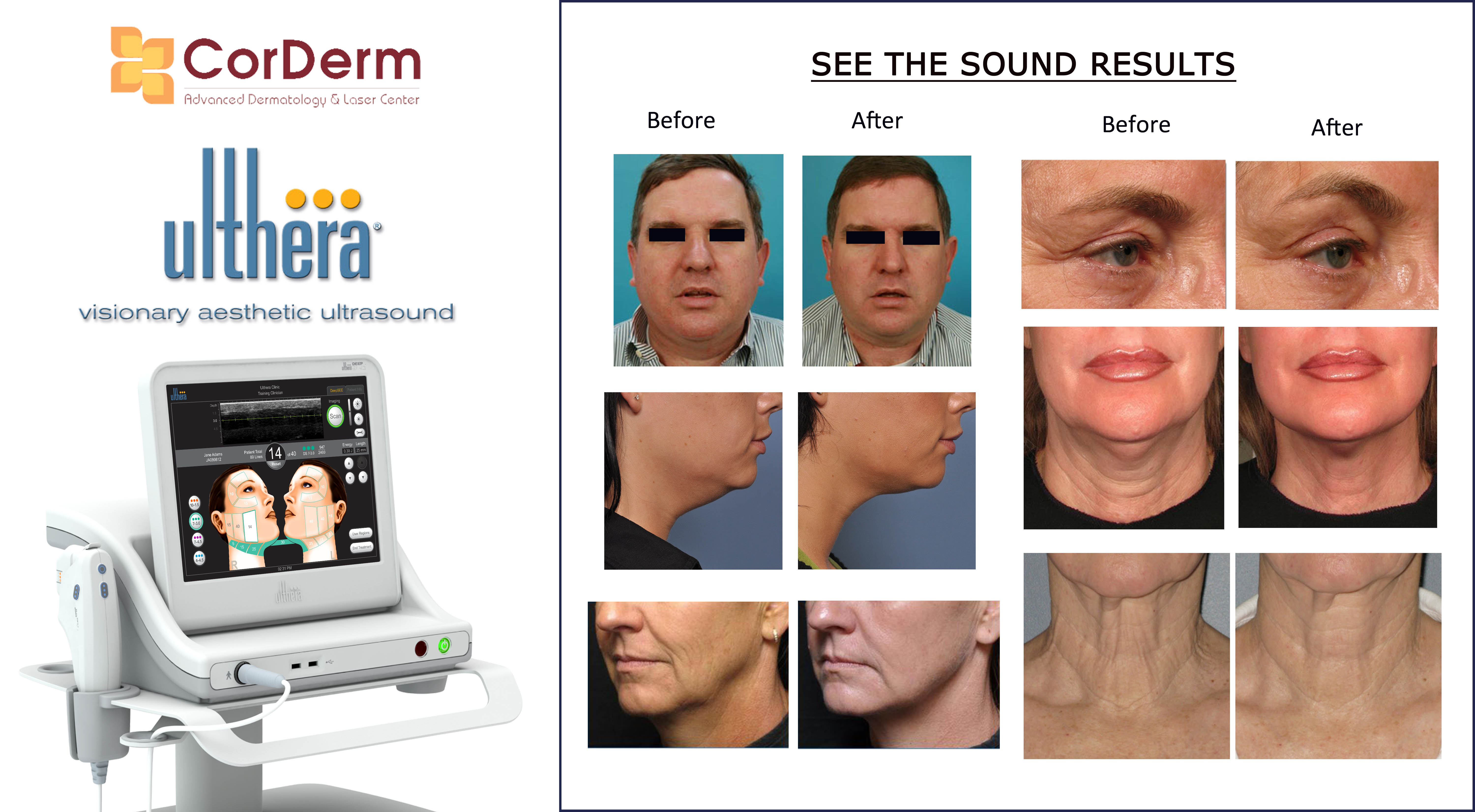 WHAT IS ULTHERA™ or ULTHERAPY™?
Ulthera™ or Ultherapy™ is a non-surgical face and neck treatment that uses high intensity focused ultrasound to lift and tone loose skin without any downtime. Effective and with no healing time required, this is the preferred treatment for the busy individual to achieve firmer, tighter and lifted skin.
HOW DOES ULTHERAPY™ WORK?
It delivers focused ultrasound (a form of heat energy) below the surface of the skin to stimulate the body's natural renewal of existing collagen and creation of new collagen. Ultherapy™ targets the deep tissues – the same tissues that are addressed in a surgical facelift – without cutting or disrupting the surface of the skin. This results in a toning and visible lifting of the skin over time.
HOW LONG IS THE ULTHERA™ TREATMENT SESSION?
A full face and neck treatment takes about an hour. When taking pain medication, expect to do this about an hour before treatment begins.
IS ULTHERAPY™ PAINFUL?
Although pain thresholds vary with each individual, expect to feel tolerable discomfort (akin to an electrical tingling) while the energy is being delivered. This is temporary and can be well-managed with topical anaesthesia. We also administer cream anesthetic as well as a potent pain reliever if necessary for the patient's utmost treatment comfort.
WHAT ARE THE SIDE EFFECTS? WHAT CAN I EXPECT AFTER THE ULTHERA™ TREATMENT?
After an Ultherapy™ treatment, there is rarely any visible effect beyond mild to moderate redness, which usually fades within an hour after treatment. Since there is no wound or injury to the skin, makeup can be applied straight away. Patients can immediately resume their regular daily activities. No specific care is needed after treatment, although you may be asked to avoid sun and some skin products for a period of time after the treatment.
Ulthera™ treatments are simple and straightforward. Expect lifting and toning over the next 2-3 months, as old collagen is renewed and replaced with new and stronger collagen. As this collagen-building process continues, further improvements can appear up to 6 months following a single treatment. Results will last for up to a minimum of 2 years. This article sums up the process and the real results of an Ultherapy™ treatment – http://www.today.com/style/ultherapy-review-cost-mini-lift-without-surgery-non-invasive-I523243 .
HOW MANY TREATMENTS DO I NEED?
Most individuals only need 1 treatment; however, some may benefit from more than one treatment (depending on the degree of skin laxity they have).