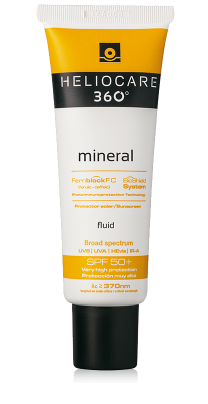 We all see the label – "Broad Spectrum Sunblock/Sun protection" in many of the sunblock creams/lotions in the market. But do you know that Infrared and Visible light can likewise harm the skin and accelerate the skin aging process?
Heliocare® 360° protects against the complete spectrum of daily environmental challenges UVB, UVA, Infrared­‐A (IR-A) and Visible light. Heliocare® 360° BioShield System of Fractional Biomimetic Melanin and Pro­-Taurine provide additional advanced biological protection against high energy visible light and Infrared‐A radiation. The BioShield System absorbs high‐energy visible light at the skin's surface and helps neutralise the action of infrared-A within the skin.
Heliocare® 360° prevents the damage free radicals generated by these daily challenges can cause using the clinically proven and patented Fernblock® Polypodium leuctomos extract contained in every Heliocare product. Fernblock® is a natural complex containing powerful polyphenol anti‐oxidants such as ferulic, caffeic and vanillic acid, supported by extensive peer review published evidence of it's high level skin anti-­oxidant efficacy. In Heliocare® 360ᴼ this is fortified with additional ferulic and caffeic acid to make Fernblock® FC, with an antioxidant activity up to 4x greater than Fernblock® alone. The Heliocare 360ᴼ antioxidant prevention effect is further enhanced by the addition of Vitamin C, Vitamin E & Green tea extract.
What's more, Heliocare® 360° repairs the DNA skin cells that were damaged by it's absorption of UV and through oxidative stress. This damage can accelerate skin­‐ageing and impair skin-health, in the worst case leading to skin cancer. Fernblock® FC can help reduce DNA damage and natural plant-derived DNA repair enzyme ingredients in Heliocare® 360° can help reduce the level of DNA damage.
Heliocare 360˚ Mineral provides the ultimate photo and anti-oxidant protection! The mineral fluid formulation is light, breathable and leaves skin feeling luxuriously silky and smooth. Perfect for use under make-up. It also works to hydrate the skin and has a mattifying effect, so it's great for daily use for all skin types. Heliocare® 360° has the following characteristics:
• Hypoallergenic, even for the most sensitive skin
• Mineral formulation is light, natural and breathable
• The pearl coloured, light-reflective fluid leaves the skin with a satin glow and feeling luxuriously silky and smooth
• Hydrates the skin and has a mattifying effect
• Perfect for use under make-up
• Great for all skin types
Directions: Apply to face, neck and décolleté 15 to 30 minutes before sun exposure.
Made in the USA