Treating Lesions with the CryoPen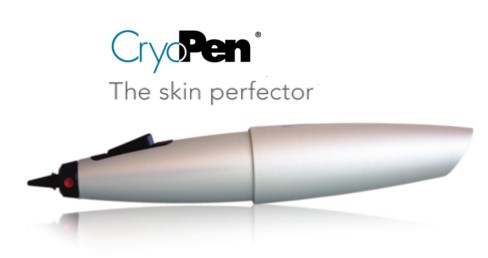 WHAT IS CRYOPEN™?
CryoPen™ is a state of the art treatment that uses extreme cold, or cryotherapy, to painlessly and safely destroy unwanted, benign and superficial lesions on the surface of the skin, such as warts, skin tags, milia, cherry angiomas, age spots.
WHAT MAKES CRYOPEN™ DIFFERENT FROM OTHER TREATMENTS FOR WARTS, SKIN TAGS AND OTHER SKIN LESIONS?
It has four main benefits over other treatments;
– CryoPen™ therapy takes far less time; with treatment sessions lasting less than 2 minutes.
– No anaesthesia is required and it is virtually painless.
– It is one of the least invasive lesion treatments in the market.
– It is used in the treatment of virtually any benign skin lesion.
WHAT LESIONS ARE TREATED BY CRYOPEN™?
CryoPen treats benign skin lesions on the surface of the skin, including:
• Skin tags
• Age/liver spots
• Milia
• Cherry angioma
• Viral verrucae (warts)
• Solar lentigo (sun spots)
• Seborrheic Keratoses (Old man's warts)
• Plantar warts
• Molluscum Contagiosum (water warts)
HOW DOES THE TREATMENT WORK?
CryoPen™ is a medical procedure which involves the application of nitrous oxide gas under high pressure to the skin where the unwanted lesions are frozen and destroyed. The tip of the Cryopen® may reach as low as -89°C which creates a rapid drop of temperature in the tissues. This has the effect of crystallising the contents of the body cells leading to destruction of the skin lesion. The duration of the treatment is dependent on the size and nature of the lesion, but generally each lesion just takes a matter of seconds. It is usual to see a frost or ice-field appear on the top of the lesion during treatment. A 'freeze-thaw-freeze' approach is often used when the lesion is frozen, allowed to defrost for a few seconds and then a second treatment applied. Although it is best to try to leave the treated area uncovered, a plaster or simple dressing may be applied if it is in an area which may lead to rubbing and aggravation.
A follow up visit is recommended after 2-4 weeks to assess response to treatment and further application if required. Over the following days, a scab will often form and the lesion may become a little red and angry looking. This will usually resolve over 1-4 weeks and the area remaining will often return to normal, although it is possible to develop a small area of scarring or change in skin colour. It is important not to pick at the scab as this may lead to scarring.
IS IT SAFE? DOES THE TREATMENT HURT?
The safety of cryotherapy has long been established and the risk of complications is lower than many other treatments.
No anaesthetic is required for cryotherapy and it is usually very well tolerated with only minimal discomfort. During the procedure, mild discomfort may be experienced that is similar to the pressure with a ball point pen on the skin although pain can be more intense as more freezing is applied. There is sometimes some residual stinging after treatment which may last for several minutes. Following the treatment, the skin lesion will become red and sore, there may be some blistering and occasionally a scab may form. If a deeper freeze is required, this can sometimes cause a greater degree of pain which may be immediately following treatment and for a variable time afterwards. Simple pain reliever can be taken if necessary.
WHAT CAN I EXPECT AFTER THE TREATMENT?
Following the treatment, it is normal to experience a residual stinging which can last for up to an hour. After this, the area will often become a little red, swollen and sore and a blister may develop. There may be some weeping from the wound and a scab may develop. It is important not to pick at the wound as this may result in scarring. As the wound heals, the skin lesion will diminish or disappear. A follow-up appointment will be made and further treatment applied if necessary. Sometimes the original skin lesion may reappear over time and require further treatment.