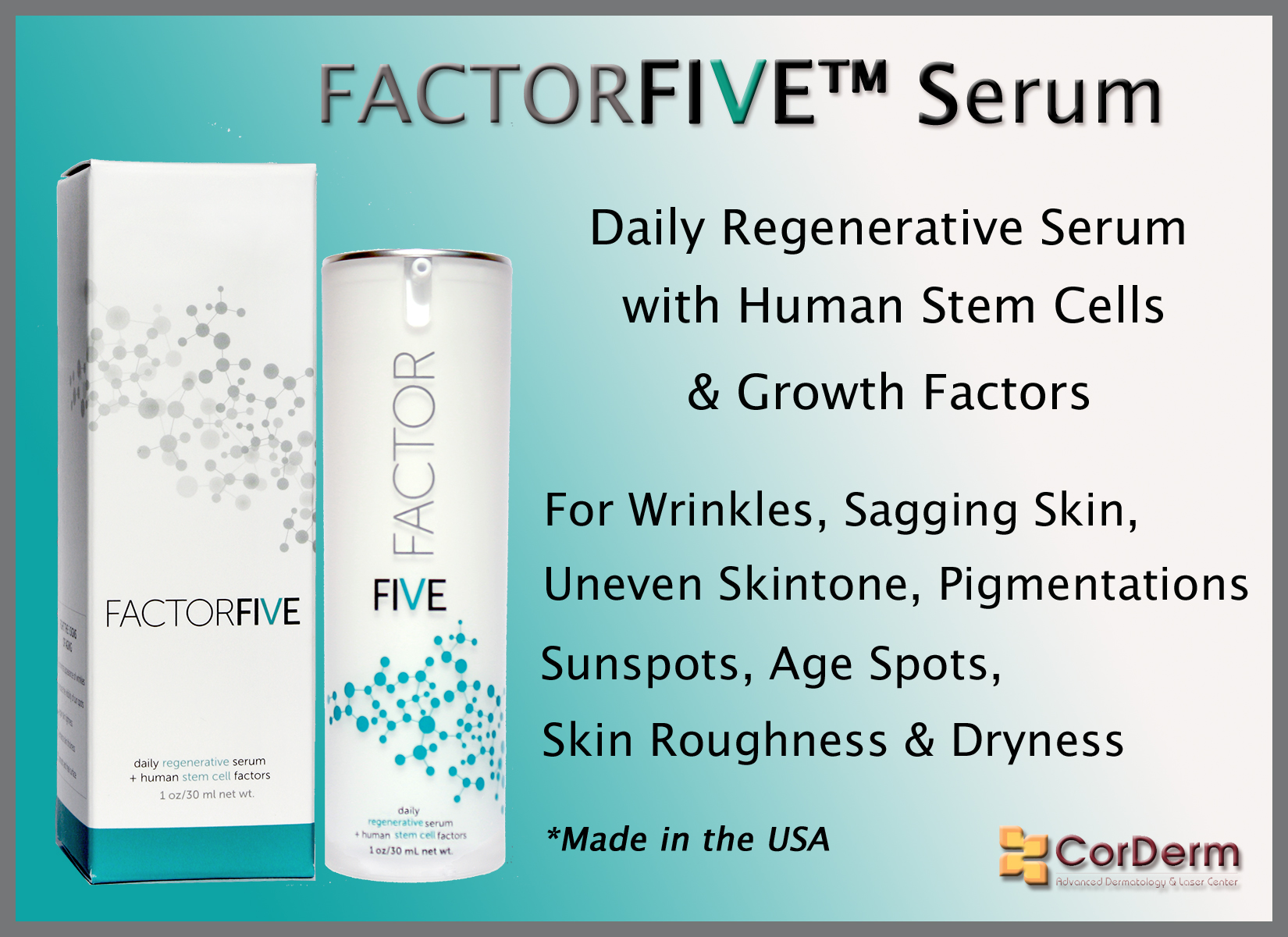 WHAT IS FACTORFIVE™ SERUM?
Factor Five™ serum is a breakthrough blend of regenerative cytokines, polypeptide complexes & potent human Growth Factors from human fats, touted to fight the 5 signs of aging & help promote youthful skin.
WHAT ARE THE 5 SIGNS OF AGING & HOW DOES FACTORFIVE™ SERUM HELP?
1. Wrinkles
2. Sun spots, Age spots
3. Loose/sagging skin
4. Thinning of skin
5. Skin roughness/dryness
Factor Five™ serum hastens collagen formation & skin regeneration to achieve the following:
• Wrinkles & fine lines diminish
• Skin becomes more youthful & clear
• Skin becomes smoother & plumper
• Skin shows decrease in hyperpigmentation & sun damage
THERE ARE PRODUCTS IN THE MARKET THAT ARE MADE OF PLANT STEM CELLS. ARE THEY THE SAME AS HUMAN STEM CELLS? WHICH IS BETTER?
It's very simple, you're not a plant. Human derived growth factors work best on human skin. FactorFive's human stem cell growth factors work like a lock & key with the receptors on your skin cells, promoting an increase in collagen, hyaluronic acid, elastin, and other beneficial skin proteins, which lead to a healthy and youthful appearance. While some plant extracts do contain vitamins and antioxidants that can help your skin, they simply do not compare to the powerful cytokines and growth factors produced by human stem cells.
WHAT TYPE OF STEM CELLS ARE USED IN FACTORFIVE™?
FactorFive sources stem cells exclusively from ethical sources. We only use fresh human adipose derived stem cells (ADSCs) that have been acquired with consent from lipoaspirate, the fat from liposuction that is typically discarded after surgery. Also, our human ADSCs have been through multiple, rigorous safety and efficacy checks. No embryos, human eggs (oocytes), bone marrow, or other controversial tissues are used to produce FactorFive™.
HOW LONG DOES IT TAKE TO SEE THE RESULTS?
It only takes 4 weeks to see the results with Factor Five™ serum! In clinical studies after 4 weeks of use, patients exhibited:
• 73% improvement in skin texture/smoothening
• 71% reduction in skin redness/ pigmentations
• 29% improvement in wrinkles & fine lines
• 29% reduction in age spots
HOW MANY TIMES A DAY SHOULD I APPLY THE SERUM?
We recommend that you apply it twice a day. We also recommend that you apply your sunblock after applying the serum before going out in the daytime.
IS FACTORFIVE™ SERUM HYPOALLERGENIC & DERMATOLOGIST-TESTED?
FactorFive™ serum has been the product of intensive studies and testing by US scientists. Ingredients are US FDA-approved, certified hypoallergenic & dermatologist-tested. Quality is assured since it's formulated and made in the USA.