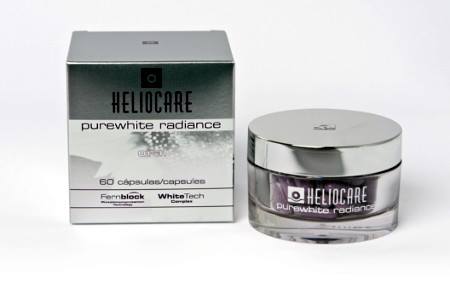 WHAT IS HELIOCARE™ PUREWHITE RADIANCE CAPSULES?
Heliocare™ PureWhite Radiance Capsules are herbal supplements that combine the benefits of Fernblock® and White Tech Complex.
WHAT IS FERNBLOCK®?
Fernblock® is the first oral agent that has shown abilities to quench free radicals and decrease the development of hyperpigmentation. It increases skin resistance against sunburn by 300% and prevents formation of skin darkening caused by UV rays. Fernblock® prevents and repairs DNA damage induced by harmful UV rays and provides anti-aging benefits through enhancement of collagen stimulation and prevention of further degradation of collagen. Thus, Fernblock® is an oral sunblock with additional benefits of delaying the aging process!
WHAT IS WHITE TECH COMPLEX?
White Tech Complex consists of the following ingredients that aid in skin lightening:
1. Pomegranate Extract/ Punica Granatum (Ellagic acid) – Clinically proven as a safe and effective whitening agent through inhibiting the activity of tyrosinase (the main enzyme of melanin production)
2. L-Cystine – Whitening agent that intercepts the formation of melanin, reducing the production of dark pigments. It is a precursor of Glutathione, a potent anti-oxidant which plays an important role in the regulation of melanin production in our body.
3. Vitamin C (L-Ascorbic Acid) – A potent and effective anti-oxidant that interferes with melanin synthesis and neutralizes free radicals from environmental aggressors and prevents collagen damage. Thus, it's both a skin lightening and anti-aging ingredient!
4. Vitamin B3 (Nicotinamide) – Inhibits transfer of melanin to the skin surface, thus reducing skin darkening. It also decreases collagen oxidation and improve aging-induced yellowing of skin.
HOW OFTEN DO I NEED TO TAKE HELIOCARE™ PUREWHITE RADIANCE CAPSULES?
Take one (1) capsule, two (2) times a day.
HOW SOON CAN I SEE THE SKIN LIGHTENING EFFECTS?
As with all whitening products, continuous use means more obvious results. Usually it will take at least 2 to 3 months for more significant skin lightening effects.
DO I STILL NEED TO WEAR SUNBLOCK CREAM/ LOTION WHILE TAKING HELIOCARE™ PUREWHITE RADIANCE CAPSULES?
For usual sun exposure (e.g. commuting daily to school/work), you don't need to apply sunblock cream/lotion. However, for more intense sun exposure (e.g. swimming, hiking, etc.), you may need to apply sunblock cream/lotion. The good thing about taking Heliocare™ PureWhite Radiance Capsules is that even though you miss re-applying your sunblock cream/lotion after intense sun exposure, you won't have any risk of sunburns.