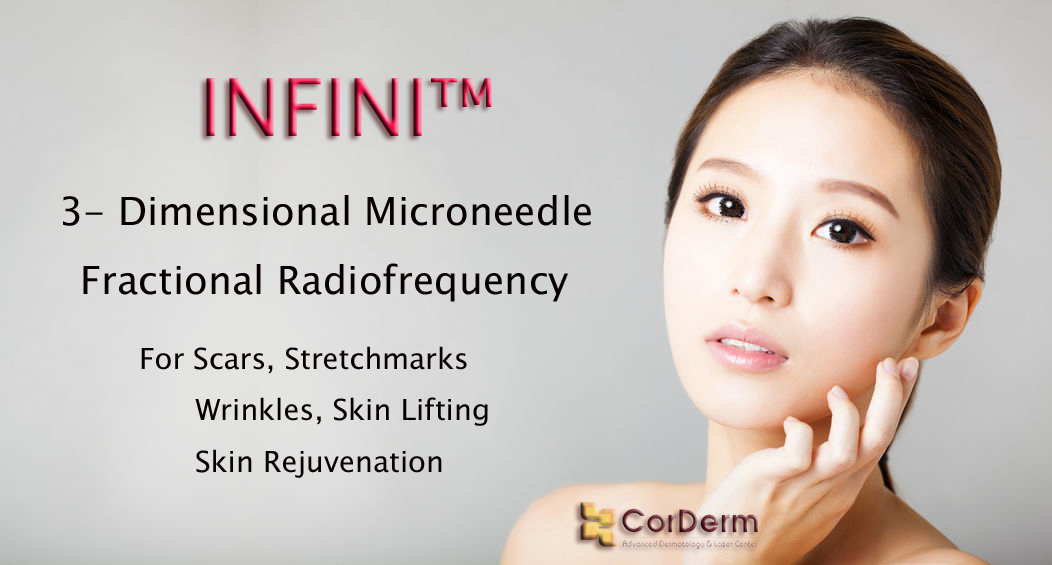 WHAT IS INFINI™?
Infini™ is a microneedle RF treatment device, which means it uses a combination of radiofrequency energy and microneedling to provide dramatic skin tightening and skin rejuvenation. Infini™ provides a non-surgical face lift by using microneedling fractional radiofrequency (MFR). Gold-coated microneedles are used to create controllable and fractioned radiofrequency thermal coagulation zones, which cause damage to the reticular dermis; this then results in long-term dermal remodelling, new elastin tissue formation, new collagen formation and dermal thickening, without causing epidermal injury.
WHAT ARE THE SKIN PROBLEMS TREATED BY INFINI™?
Infini™ is the ideal device for performing non-surgical cosmetic treatments on the face and neck. A number of different skin problems can be improved with Infini's innovative microneedle and radiofrequency combination technology. Infini™ skin treatment includes:
  ▪ Skin tightening
  ▪ Improvement of Wrinkles and fine lines
  ▪ Skin rejuvenation
  ▪ Treatment of Active inflammatory Acne
  ▪ Improvement of Enlarged pores
  ▪ Improvement of Acne scars
  ▪ Scar treatment
  ▪ Treatment of Hyperhidrosis or Excessive Sweating
  ▪ Improvement of Stretch marks
  ▪ Improvement of Excessive Sebum or Oil secretion
HOW COMFORTABLE IS THE INFINI™ TREATMENT?
This depends on the type of procedure and individual, each person has his or her own pain tolerances. However, the INFINI was designed to maximize comfort for the patient with patented flow needling technology. Compared with other MRF (Microneedle Radiofrequency) and SRF (Superficial Radiofrequency) devices, many find the Infini™ more comfortable.
WHAT WILL HAPPEN AFTER INFINI™ THE TREATMENT?
Infini's precise intra-dermal RF delivery with the MFR approach eliminates thermal damage to skin surface providing faster healing without downtime, and as a result lowers the risk of dark pigmentation after the treatment for all skin types. Typically, the treated area is red and appears "sunburned" or "wind chapped" for up to 24 to 48 hours. Patients may also experience minimal swelling. Following treatment, patients can resume all normal activities. We advise that patients wear adequate sun protection before going outdoors.
HOW MANY INFINI™ TREATMENTS WILL I NEED?
The number of treatments depends on age, condition of skin, amount of laxity, and desires. In general, most people should consider 3 treatment sessions, but some have been satisfied with less. With only one session of Infini™ treatment most patients will already see results.
IF I WOULD NEED MORE THAN 1 SESSION OF INFINI™, HOW OFTEN WILL THE TREATMENT SESSIONS BE?
Interval of sessions is 3-6 weeks apart. Interval of sessions can be extended to 8 weeks if needed.
ARE THERE ANY SIDE EFFECTS FROM INFINI™ TREATMENT?
Complications or negative side effects are remarkably low with the Infini™ treatments. Patient selection should be appropriate and the settings and technique should be done by a trained and licensed dermatologist. Pre-treating the skin with a balanced medical skincare regimen will also optimize the response to Infini as well as reduce the possibility of any side effects. Problems such as hyperpigmentation which can be frustrating with laser treatments in darker skin types are not typically seen with Infini™ treatments.