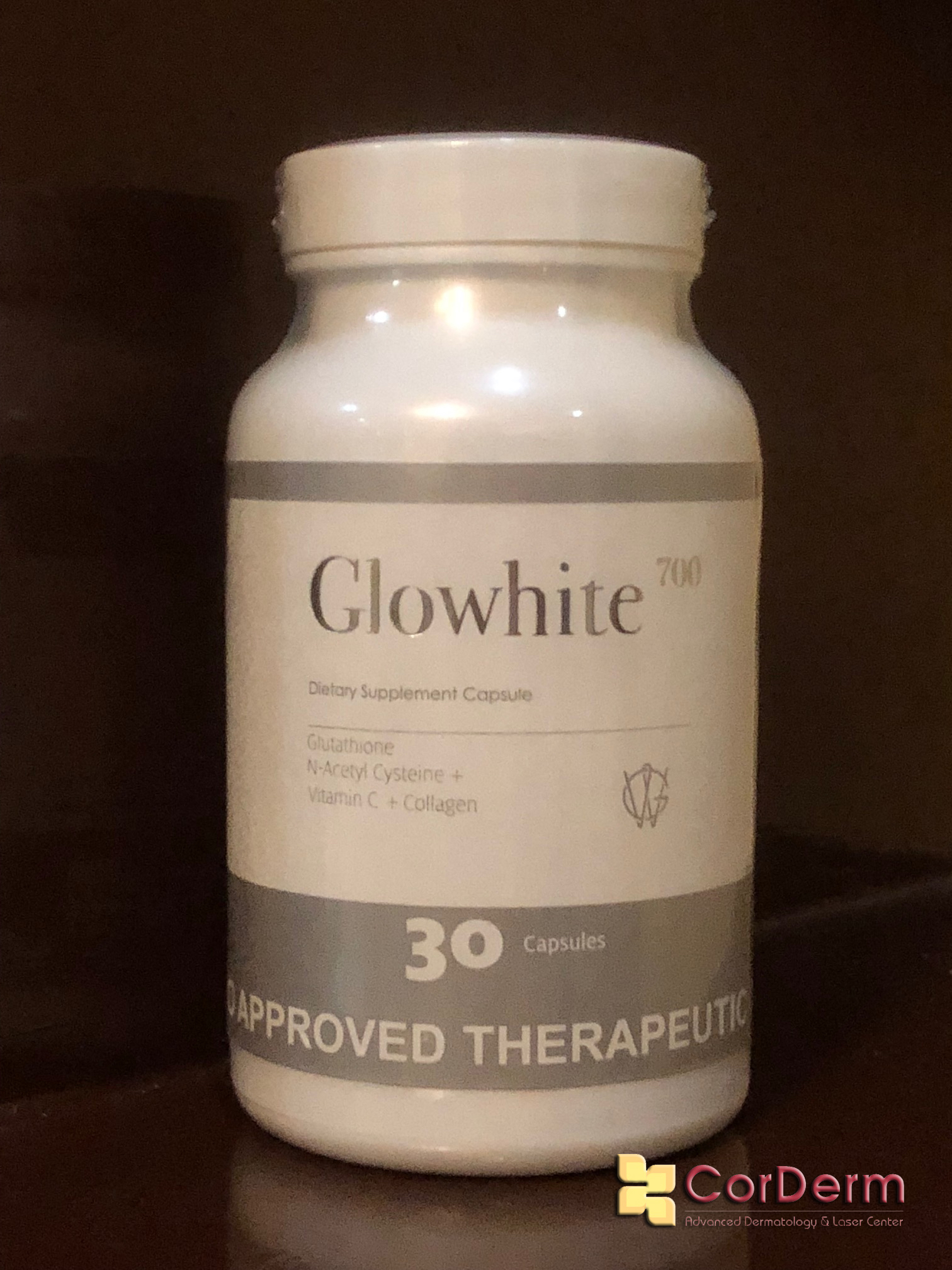 From the makes of Platinum SF700, comes a better formula Glutathione supplement – Glowhite® 700 Oral Supplement. It's still the Nanotechnology Glutathione that you love, but with a better formulation, more collagen and more absorbable glutathione and non-acidic vitamin C.
WHAT IS GLOWHITE® 700?
Glowhite® 700 is an oral supplement consisting of Glutathione, NAC (N-Acetylcysteine), collagen and Non-acidic Vitamin C, in Nanotechnology formulation for enhanced skin whitening and anti-aging results.
WHAT IS NANOTECHNOLOGY?
Nanotechnology is a special formulation which uses Nanosomes for delivery of glutathione and the other active ingredients of Glowhite® 700. Because of these Nanosomes, the absorption of the active ingredients will be increased by up to 90%. Ordinary oral medications' absorption because of bioavailability is only up to 50%. Thus, with Nanotechnology, the glutathione and whitening ingredients that are contained in Glowhite® 700 are absorbed and used by our body more efficiently, thus can be compared to IV Glutathione!
WHAT IS NAC?
NAC is considered the Master Anti-oxidant. NAC (N-Acetyl Cysteine) is the basic building block of glutathione. It is the critical precursor of glutathione synthesis.
HOW DOES NAC raise the concentration of glutathione in our tissues?
The combination of glutathione supplement with NAC raises glutathione levels in our tissues faster. NAC is one of the most important building blocks and is a critical precursor in glutathione synthesis which helps the body in producing more glutathione naturally.
CAN I EXPECT FASTER SKIN LIGHTENING RESULT IN GLUTATHIONE WITH NAC THAN THOSE WITHOUT?
Yes, because aside from the glutathione supplement, NAC helps the body produce more glutathione naturally in your body.
WHAT ARE THE BENEFITS OF GLUTATHIONE?
Glutathione has the following benefits:
* Skin Whitening
* Anti-aging
* Prevent Cancer
* Preserve Memory
* Improvement of Cardiovascular Health
Glutathione also protects us against:
– Alzheimer's disease
– Allergies/ asthma
– Cataracts, Glaucoma
– Chronic fatigue syndrome
– Diabetes, Heart disease
– Liver disease, Hepatitis
– Osteoarthritis
– Parkinson's disease
WHAT ARE THE BENEFITS OF COLLAGEN IN ORAL SUPPLEMENTS?
Collagen is a protein found in connective tissues throughout your body, including our skin. As we age, our skin's inner layer loses collagen and as a result, becomes less supple and firm and more vulnerable to damage. Collagen supplements help improve our skin.
WHY IS VITAMIN C NECESSARY FOR WHITENING EFFECT OF GLUTATHIONE?
Studies show that Vitamin C enhances the beneficial effects of glutathione, including its anti-oxidant, anti-aging and skin whitening effects.
WHAT ARE THE BENEFITS OF ALKALINE VITAMIN C IN GLOWHITE®?
People with Hyperacidity, Ulcer or Gastritis cannot tolerate acidic oral supplements like Vitamin C and Calcium. Thus, people with Hyperacidity or Ulcer or Gastritis can take Glowhite® 700 since it contains Alkaline Vitamin C which has higher pH so it is less acidic.
Want to know more about Glowhite® 700? Ask our Board-Certified & Internationally-Trained Dermatologist about it.