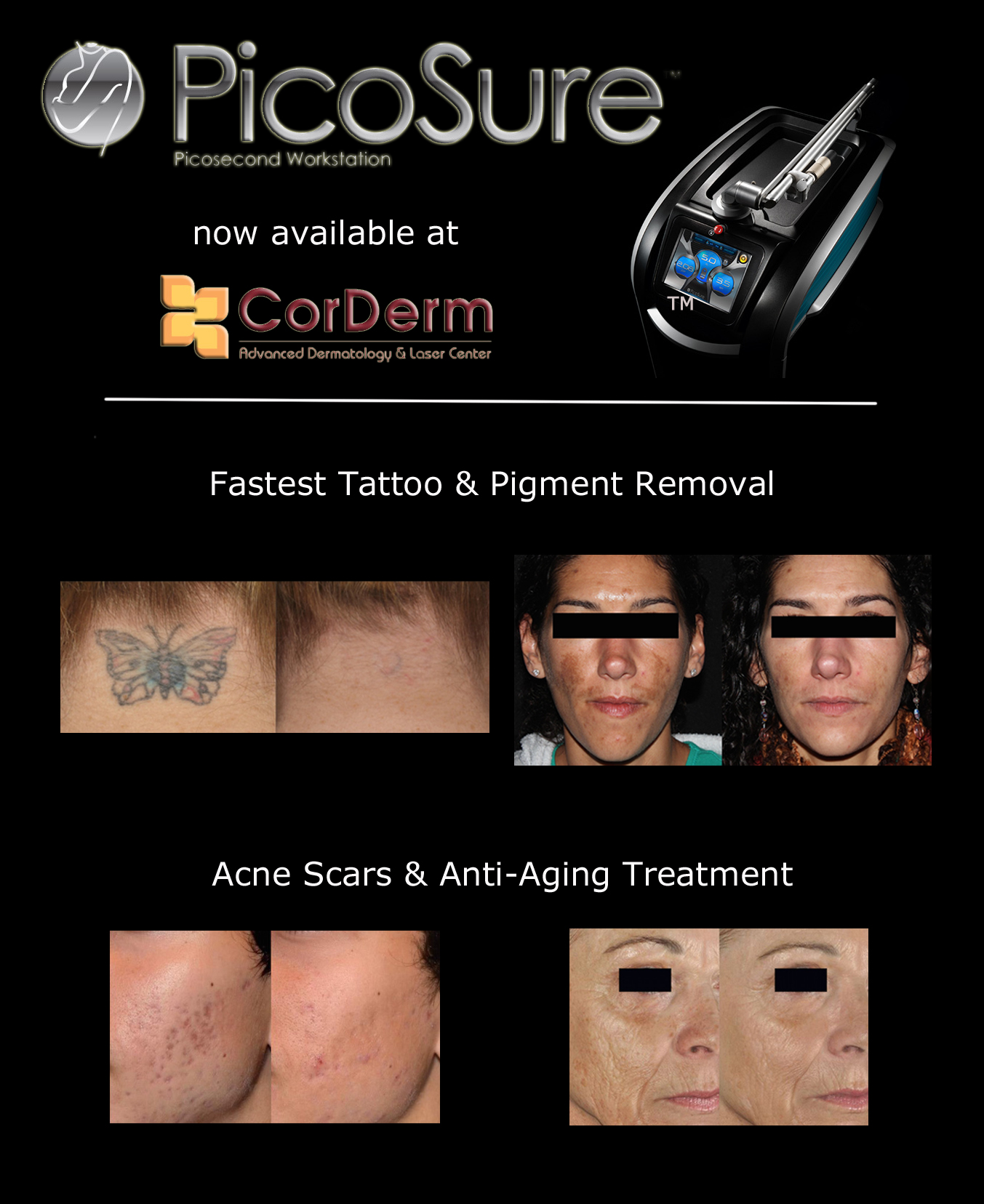 WHAT IS PICOSURE?
PicoSure is the world's fastest, safest and revolutionary laser specifically designed to treat tattoos and pigmented (brown) spots. It is also very effective laser for treating acne scars, rejuvenating and tightening the skin and reducing wrinkles.
HOW DOES PICOSURE WORK?
PicoSure laser focuses on your problem areas whether it's brown spots, sun damage, freckles, pigmented lesions, aged & wrinkled skin or acne scars. In the past, lasers have relied on intense heat energy to remove pigment from the skin, which may be painful and lead to significant skin redness and downtime. Now, with the breakthrough picosecond technology of PicoSure, the results are more dramatic and much better with less pain and less downtime than traditional lasers.
WHY IS PICOSURE MORE EFFECTIVE THAN OTHER LASERS?
PicoSure offers a gentler treatment, because of its patented technology of delivering ultra short pulses that create an intense impact with less trauma to the skin.
• Treatments using a PicoSure laser are more comfortable
• Fewer treatments are required
• The skin's recovery time is shorter
WHAT ARE THE SKIN PROBLEMS TREATED BY PICOSURE?
• Tattoos (All colors)
• Melasma
• Freckles
• All other kinds of pigmentations (e.g. Dark underarms, Dark scars)
• Acne scars
• Wrinkles/ Aging skin
• Uneven skin tone
IS PICOSURE PAINFUL?
There is some pain associated for tattoo removal using PicoSure although this less painful than traditional tattoo removal. We use numbing medication, applied topically 30 minutes prior to the procedure.
PicoSure for melasma, freckles, dark scars/spots and for wrinkles is not painful since the intensity for this is lower than for tattoo removal.
HOW LONG WILL EACH TREATMENT SESSION BE?
Sessions average about 15 minutes each; your actual session length will depend on the size of the tattoo or the treated area. Each session is scheduled about 4 to 6 weeks apart to allow the skin to naturally clear away the pigment of the spot or the ink between treatments.
HOW MANY TREATMENTS DO I NEED?
The number of treatments is based on the color of the tattoo or the dark spot, the type of tattoo ink used and your skin and the severity of the skin problem (wrinkles, acne scars, melasma, etc.). You will see results even after the first session. For example, brown spots may need 2-4 treatments; tattoos may take 3 or more treatments (depending on the type of pigment); acne scars may take 1 to 3 treatments; wrinkles/aging skin may need 1-2 treatments, again, based on your individual situation.