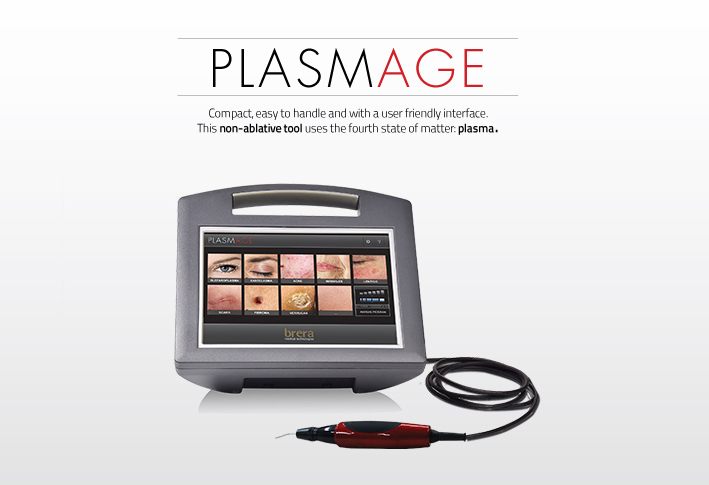 CorDerm Advanced Dermatology & Laser Center is proud to introduce for the First Time in the Philippines, the Plasmage®, Fractional Plasma Treatment!
Plasmage®, was invented by a team of expert medical engineers from the esteemed Italian company, Brera Medical Technologies. Plasmage® is used for Non-surgical Eyelid Lift, Removal of Wrinkles like Crow's Feet and Smoker's Lines (lines on lips), Deep Scars, Syringoma, Milia, Age Spots, Fibroids, Skintags, etc.
The comparative advantage of the Plasmage® apparatus is that due to its precision it acts precisely on those areas where it is difficult to use other instruments such as lasers or radiofrequency. Plasmage® works according to the principle of fractional plasma and is extremely precise, with the ability of setting the instrument's strength while treating certain problems. Recovery time is short and the results are instant and impressive.
HOW DOES PLASMAGE® WORK?
The device creates a series of small dots on the skin that are triggers for an immediate reaction – the tissue is tightened, lifted, contoured, and renewed. Plasmage uses the fourth state of matter – Gas – to achieve this effect. An ionization of gases from the air occurs, creating a small electric arch. These electric arches are used to treat a certain problem, while the surrounding skin remains unaffected.
WHAT CONDITIONS CAN PLASMAGE® TREAT?
Plasmage® can be used to treat the following
– Redundant skin in the eyelids
– Wrinkles (e.g. Lower eyelid wrinkles, Crow's Feet, Smoker's lines around the lips)
– Deep scars
– Syringoma
– Milia
– Sebaceous hyperplasia
– Seborrheic keratoses
– Age Spots
– Xanthelasma
– Fibroids
– Skintags
– Uneven skin tone
– Rough/Dry skin
IS THE TREATMENT PAINFUL?
Because anaesthetic cream is applied to the area to be treated, the prick from the needle is minimal, with only a brief tingly sensation. Recovery is entirely pain-free. Swelling may occur on the treated area, but will disappear in 2-3 days. You can then return to all your regular daily activities.
WHAT RESULTS CAN I EXPECT FROM PLASMAGE® TREATMENT?
Plasmage® can yield stunning results, depending on the state of the skin. In fact, the results are visible immediately, with end results in 2-4 weeks, when the skin recovers completely.
ARE THERE ANY OTHER INSTRUCTIONS THAT I NEED TO REMEMBER AFTER THE PLASMAGE® TREATMENT?
After treatment, it is necessary to apply healing cream for at least 7 days. A sun protection cream or sunblock should be applied for at least 6 to 8 weeks . The scabs will fall off in around 7 days, and the skin will be completely renewed after 6 to 8 weeks.