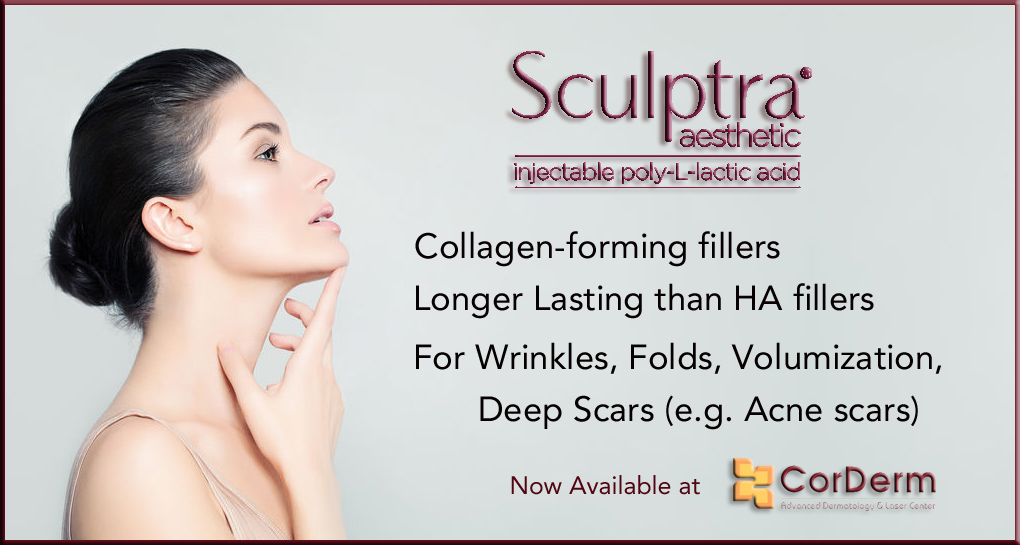 WHAT IS SCULPTRA®?
Sculptra® is a Poly-L-Lactic acid substance that is used to fill wrinkles and deep scars, because of its collagen-forming properties. Thus, long term effects would be more satisfactory than traditional toxins like Botox®, hyaluronic acid fillers like Restylane® since the lost collagen that causes wrinkles and deep scars are replenished.
WHY SHOULD YOU CHOOSE SCULPTRA® OVER OTHER TREATMENTS?
Fillers are liquid or gel substances, like hyaluronic acid or bovine or porcine collagen, that diminish lines by pushing up the dermis space beneath wrinkles and creases. Results appear immediately and can last up to several months.
Collagen stimulators are used to diminish facial wrinkles by helping to restore the deep, underlying structure of the skin. Results appear gradually over the treatment regime (typically three injections over the course of three to four months) and can last up to two years.
As a Poly-L-lactic acid (PLLA) collagen stimulator, Sculptra® is different. It works with your body within the deep dermis, rather than topically, to help revitalize collagen production and help restore your skin's inner structure and volume. As the Sculptra's PLLA microparticles are absorbed, they help stimulate collagen production. Rebuilt collagen strands begin gradually helping to restore facial volume and the look of fullness to wrinkles and deep scars. Results may not be immediate, but they will last much longer than other treatments.
HOW DOES SCULPTRA® WORK?
Sculptra® is made with biocompatible, biodegradable, synthetic material called Poly-L-lactic acid, which is gradually and naturally absorbed by the body and helps to rebuild lost collagen through a series of treatments administered by a trained dermatologist.
The dermatologist injects treatment within the dermis, where strands of collagen support your skin's structure. Over time, Sculptra® helps the body reproduce lost collagen. On average, 3 injection appointments are needed over a period of a few months. The number of injection appointments and the number of injections per appointment vary from person to person, depending on how much collagen has been lost.
IS SCULPTRA® SAFE?
Sculptra® is US FDA-approved and has been used worldwide since 1999. It contains a synthetic material called Poly-L-Lactic acid, which is a biocompatible, biodegradable substance that is gradually and naturally absorbed by the body and commonly found in dissolvable stitches.
WHAT CAN I EXPECT AFTER THE TREATMENT?
There will be some redness, tenderness and swelling on the injection sites after the treatment which will disappear in around 1 to 2 days. Bruising can be seen especially if you're prone to bruising, which will disappear in 4 to 5 days. Lumps that can occur with the injection will dissipate in 1 to 2 days.
Want to know more about Sculptra®? Ask our Board-certified & Internationally-trained Dermatologist about it.