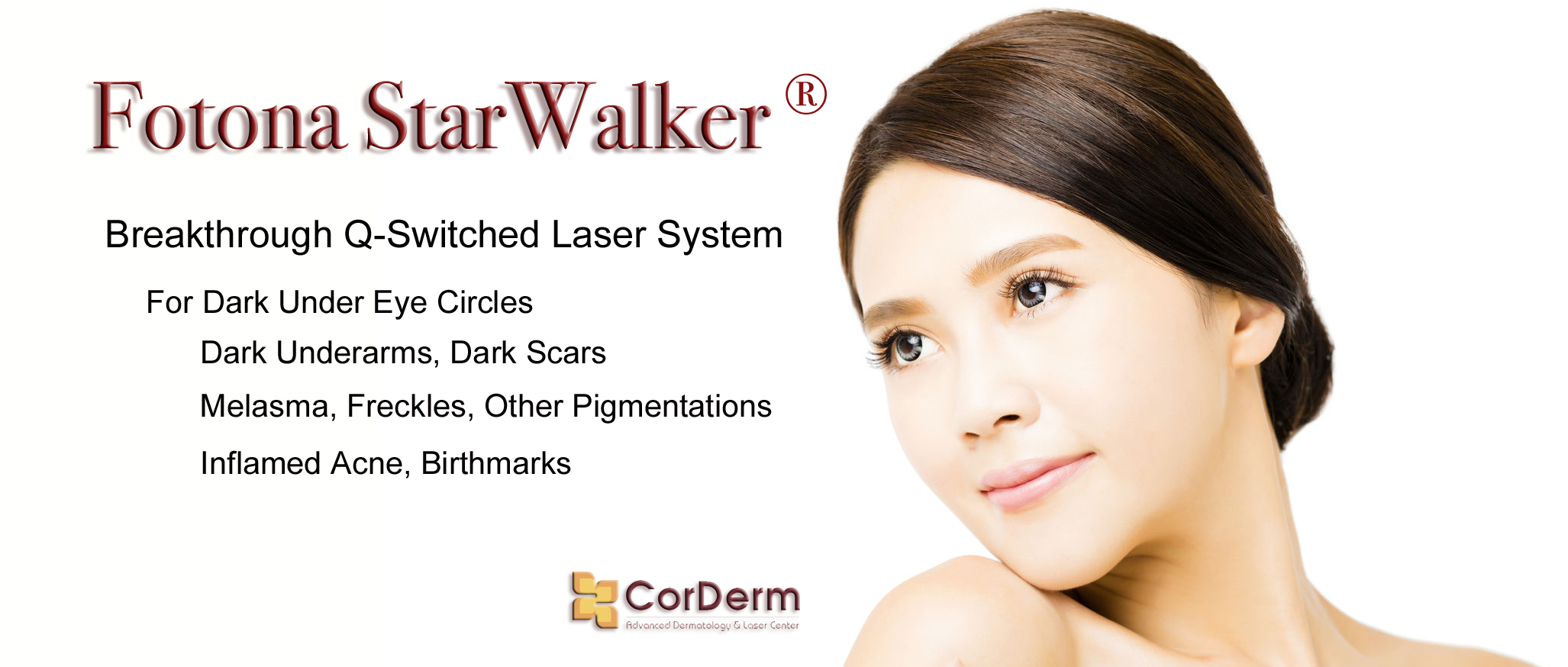 WHAT IS FOTONA STARWALKER®?
Fotona StarWalker® is the most versatile Q-Switched Laser System which combines 4 wavelengths & 14 laser modalities for different types of applications such as Inflamed Acne, Dark Scars, Melasma, Dark Under Eye Circles, Birthmarks & Freckles.
HOW DOES FOTONA STARWALKER® WORK?
Fotona StarWalker's unique Transverse Mode Discrimination laser oscillator technology combined with the Adaptive Stuctured Pulse control delivers very short (5 nsec) Q-switched pulses consisting of a high energy train of ultra-short bursts of energy in trillionths of a second, enabling photomechanical impact to shatter tiny skin targets without injury to the surrounding skin. StarWalker's technology thus combines the high energy capabilities of nanosecond lasers with the ultrashort pulse peak powers of traditional picosecond lasers. Fotona's StarWalker laser system features the entire range of super-short pulse technologies in a single, high-performance solution.
WHAT ARE THE SKIN PROBLEMS TREATED BY FOTONA STARWALKER®?
• Dark Under Eye Circles (Panda Eyes)
• Melasma
• Freckles
• Dark Underarms
• Dark Scars
• Inflamed Acne
• Birthmarks including Nevus of Ota & Hemangiomas
• Uneven Skin tone
IS FOTONA STARWALKER® PAINFUL?
There is virtually no pain other than the warm and slight prickly sensation.
HOW LONG WILL EACH TREATMENT SESSION BE?
Sessions average about 15 minutes each; your actual session length will depend on the size of the treated area. Each session is scheduled about 2 to 4 weeks apart to allow the skin to naturally clear away the pigment of the spot between treatments.
HOW MANY TREATMENTS DO I NEED?
The number of treatments is based on the type of skin problem. However, average number of sessions is around 5 for most of the indications.
Want to know more about Fotona StarWalker® Laser? Ask our Board-Certified & Internationally-Trained Dermatologist about it.