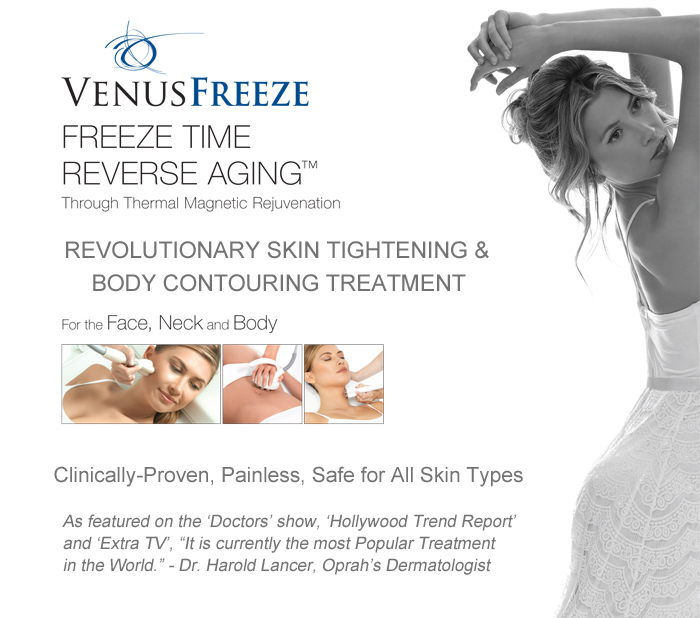 WHAT IS VENUS FREEZE™?
Venus Freeze is a device used to treat wrinkles, tighten skin, reduce cellulite and body fats. Using (MP)2 technology, this device delivers multi-polar radiofrequency and Pulsed Magnetic Fields to the skin to produce a dense and uniform heat matrix. This causes collagen synthesis and contraction, fibroblast proliferation, new blood vessels formation and fat destruction.
WHAT AREAS OF THE BODY CAN BE TREATED?
The face, neck and entire body can be treated with Venus Freeze™.
WHAT KIND OF RESULTS WILL I GET FROM VENUS FREEZE™ TREATMENTS?
You will attain tighter skin, softening of wrinkles, plumper, fuller and more youthful appearance, reduced cellulite and a more contoured silhouette.
IS THE TREATMENT PAINFUL? HOW LONG DOES THE TREATMENT TAKE?
Venus Freeze™ treatments are non-invasive and painless, with many patients comparing the treatment to a hot-stone massage. The treatment is also very quick and effortless– only 15 minutes for the face and 40 minutes for the body.
IS VENUS FREEZE™ SAFE?
Radiofrequency and Magnetic Pulses have been used in medicine for many years and are proven, safe and effective technologies. Your treatment provider will review your medical history and your aesthetic goals to see if Venus Freeze™ is the right treatment for you.
HOW MANY TREATMENTS DO I NEED?
The number of treatments required will vary patient to patient, but typically, 5-6 treatments for the face and 6-8 for the neck and body.
WHAT SHOULD I EXPECT DURING AND AFTER THE TREATMENT?
During a Venus Freeze™ treatment, you will feel a warm sensation as the machine moves over your skin and concentrates on the affected areas. You should have a warm feeling and some slight heat from the treated area for about a few hours after the procedure. Although very rare, you might have some minimal bruising from a treatment, but this should be very light, if any. Treatments require no patient downtime and you can return to work or other normal activities immediately.