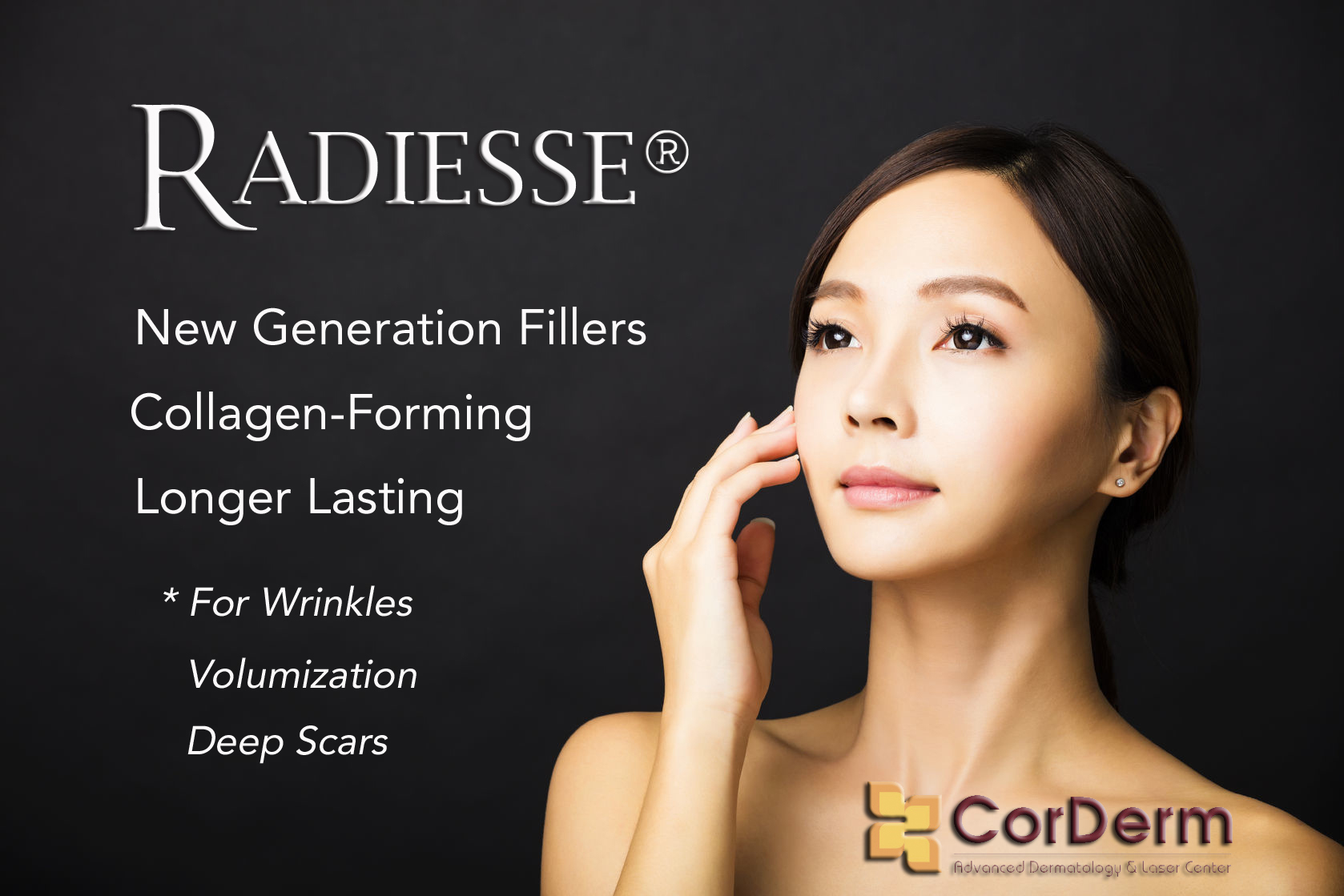 WHAT ARE RADIESSE® FILLERS?
Radiesse® are dermal fillers that are used for smoothing moderate to severe facial wrinkles and folds, such as nasolabial folds (the creases that extend from the corner of your nose to the corner of your mouth). Radiesse® is also used for correcting volume loss in the face and in the back of the hands. Radiesse® is likewise proven to form collagen which can help in treating deep scars like atrophic acne and chickenpox scars.
HOW DOES RADIESSE® WORK?
Radiesse® is a wrinkle filler used to plump the skin. Radiesse is injected through a small needle and placed under the skin. Immediately, this filler works to add volume under the skin and over time, the benefits of Radiesse® continue by stimulating your body's own natural collagen. The natural results have been shown to last 15 to 18 months or more in many patients, making the treatment results both immediate and long lasting. Moreover, since collagen is being formed underneath the deep scars with the injection of Radiesse®, there is a significant long lasting reduction of the depth of deep scars like atrophic acne and chickenpox scars.
WHAT IS RADIESSE® MADE FROM?
RADIESSE® is made of tiny calcium-based microspheres suspended in a water-based gel. The calcium microspheres are similar to minerals found naturally in the body so allergy testing is not required. Over time, the body absorbs the microspheres and gel, leaving behind only natural collagen.
WHAT MAKES RADIESSE® DIFFERENT FROM OTHER DERMAL FILLERS?
Radiesse® is the only dermal filler available composed of calcium-based microspheres, and has been shown to stimulate the natural production of collagen, for results that may last 15 to 18 months or more in many patients. In addition, 30% less Radiesse® may be needed for correction when compared to other hyaluronic acid injectables. Unlike hyaluronic acid fillers, Radiesse™ will not migrate to other areas, which can lead to unsightly bulging/beading underneath the skin. In clinical studies with leading hyaluronic acid injectable dermal fillers, results showed that Radiesse® patients were more satisfied with their results than patients treated with other leading wrinkle fillers.
IS RADIESSE® PAINFUL?
Radiesse® is injected under the skin in a quick procedure that can be done over the lunch hour. Radiesse® is also FDA-approved to mix with lidocaine (an anesthetic), which means the procedure will be much more comfortable. In fact, in a clinical study, 90% of patients treated reported significant pain reduction when injected with Radiesse® mixed with lidocaine.
HOW SOON CAN I SEE THE RESULTS?
Immediately upon injection, Radiesse® restores volume to smooth out the signs of aging. The natural-looking results may last 15 to 18 months or more in many patients. For deep scars like atrophic acne scars, results are even longer lasting.
WHAT ARE THE SIDE EFFECTS OF RADIESSE®?
The most common adverse events include bruising, redness, swelling, pain, tenderness and itching. These side effects generally last for a short time and are mild in nature.